Pancetta and canola flower(field mustard) pasta
We've received lots of Canola flowers from Boso, Chiba prefecture recently, so I would like to introduce a recipe using Pancetta and canola flowers. It is a very Spring like recipe.
Canola flowers are so tasty even if we just boil them lightly. I love them:)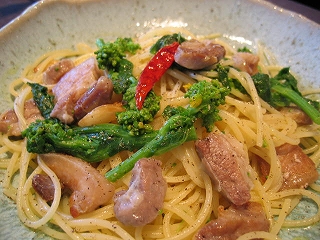 [Ingredients]
60-70g(2-2.5 oz) of pancetta
6-8 canola flowers
A clove of garlic
some olive oil
one red pepper
100g(3.5 oz) of spaghetti
some black pepper
some extra virgin olive oil
---
[How to cook]
First, smash the garlic, put the garlic and some olive oil in the pan, and cook over low heat. Some oil comes out of the pancetta, so use little oil.
You will keep turning the garlic. Once the color starts turning brown,
add the pancetta you cut like the picture below, and cook the both sides brown like the picture. When they become brown, turn off the heat and put the red pepper.
 Little bit before where you are at in this recipe right now, you should start cooking the pasta under "How to cook pasta" recipe.
You will boil the canola flowers in the same pot you are cooking the pasta. By doing so, the canola flowers's color will turn great, and also they will get some salty flavor. The pasta will get the scent from the flowers as well.
Since I am using thinner canola flowers this time, I start boiling them 1 minutes before the pasta is cooked.
Once the pasta is cooked, strain it better than usual, and put it in the pan the pancetta is in. Please make sure strain the pasta really well since pancetta and the canola flowers already have salty flavor. If you want to make a little saltier, you will add the water you boiled the pasta later on.
You will check the flavor and adjust the saltiness. Then you will shake the pan to make the sauce emulsify. About"emulsification", please refer to "the Pasta aglio, olio e peperoncino"
Place the pasta on a plate, put some black pepper and extra virgin olive oil. Done!
---