Potatoes are so good, aren't they?
 When I was working at my first restaurant, this recipe was one of the classic garnishes. But I thought that it was so amazing that I now occasionally serve this recipe as one of the appetizers at my restaurant.
---
[Ingredients]
5 medium potatoes
One egg
180 cc(6 oz) of milk
180 cc(6 oz) of heavy cream/whipping cream (35% fat)
A little Salt
A little Nutmeg
Some Parmesan cheese 
---
[How to cook]
First, lay out a cooking paper in a rectangular or square baking dish.  I use one that is about 16cm x 20 cm (6 x 8 inches).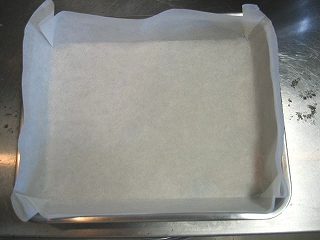 Put the egg yolk, milk, and heavy cream into a big sized bowl and mix them very well with a whisk.
 While you can use whipping cream, the 35 % fat heavy cream is what I use.  The flavors are different between the two.
 Next, put some salt and nutmeg (optional). As for salt, put in enough that it tastes just a little salt when you check it.  Remember you'll be adding lots of cheese later.  If you've made my bagna cauda sauce, you can add some of that…but keep it as a gentle flavor.
 After this process, peel the potatoes and slice them very finely in the egg mixture using a slicer.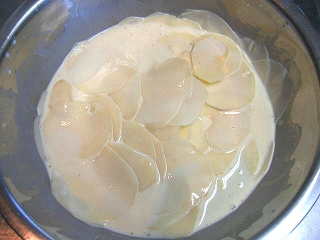 Line up the potatoes evenly in the parchment-lined baking dish, and pour the egg mixture over them. Cover thoroughly with parmesan cheese.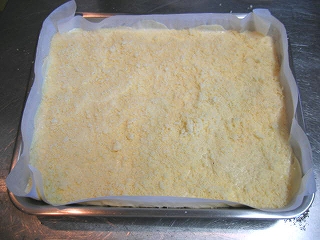 Bake the dish, uncovered, in a pre-heated oven (180 ℃ /356℉), for about 30-40 minutes. I am just letting you know that my oven is a gas oven with no temperature setting…so I go by how it looks!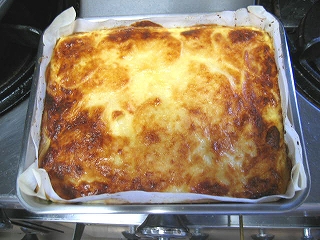 It is done when the color is like this and a skewer goes through smoothly. If you feel the slices when you check it by the skewer it is not done.  The potatoes should feel the same as boiling them for mashed potatoes.
 If you want to cut it nicely, you need to let it cool completely and leave it in the fridge to make it tighten.
 You warm the potato gratin in the oven and pour some banga cauda sauce over it. That makes this recipe a wonderful dish.  Or, it is OK to cut it into the pieces and enjoy.
---