This is a Tomato Basil Pasta. It is a representative of the simple pasta! A deep flavored tomato sauce with an accent of the basil…It is the best!!
By the way, the flavor is simple and really good, but it actually takes a quite labor to make it…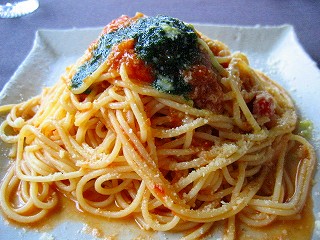 ---
[Ingredients]
About 80cc(3 oz) of the basic tomato sauce
About one teaspoonful of Soffritto
About two teaspoonful of the basil paste
One tea spoonful of minced garlic
Some olive oil
Some parmesan cheese
some extra virgin olive oil
100g of spaghetti
---
[How to cook]
First of all, you will need to make the 3 ingredients of the ingredients' section before making this recipe. You can click the attached links under [ingredients] to see those recipes. It is a time-consuming, but nothing difficult.
It will be definitely different from the tomato basil pasta with using just a regular tomato whole can and cut basil. Please try making it!
Put one teaspoonful of minced garlic and some olive oil in a pan, and cook it over low heat.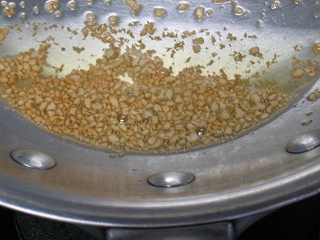 Once the garlic turns golden brown, add one teaspoonful of soffritto and one teaspoonful of basil paste.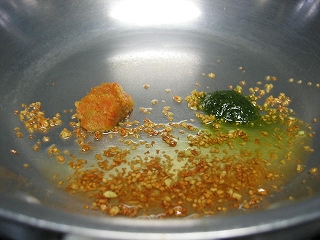 The left yellow one is soffritto and the right green one is basil paste.
You might think it is understandable to put the basil paste, but why adding soffritto as well… As I mentioned under Soffritto recipe section, it is because we would like to add the deep sweetness into the tomato sauce. It is just one teaspoonful, but the effect is tremendous.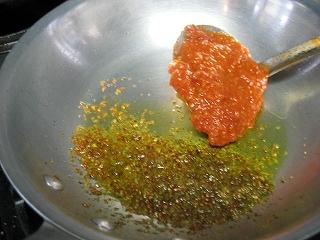 In the mixture of garlic, soffritto, and basil paste, you will add the basic tomato sauce.
Add some water and shake the pan to mix everything very well. (At first, over medium heat since the tomato sauce is cold. Then change to low heat once the sauce is getting warm.)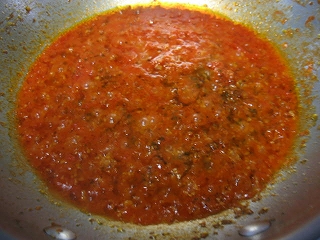 Once the sauce looks like the picture above, Put the spaghetti into the sauce (the spaghetti you cook under "How to cook pasta" recipe.)
You will adjust the saltiness and concentration of the sauce with parmesan cheese and the water you boiled the spaghetti. You will place the pasta with the sauce on a place.
Add the rest of the basil paste (one teaspoonful) on the top, parmesan cheese, and extra virgin olive oil…Done!

---